Thanks to its proximity to New Mexico, the San Luis Valley shares many of its signature flavors with its neighbors immediately to the south. Traders and merchants used the Old Spanish Trail, along with several other major thoroughfares, to move goods between the San Luis Valley, New Mexico, and California, spreading cultural influence throughout the American Southwest. The SLV is also part of the region where the chili pepper was born: Bred by horticulture professor Dr. Fabian Garcia in 1913, the green chili is among the most beloved southwestern staples. You'll find some of Colorado's best local foods in this agricultural haven.
Thanks to its agricultural background, the San Luis Valley is home to tons of unique local flavors. Though the region is technically a high-altitude desert climate, it's fed by an underground aquifer and regular spring runoff from the nearby mountains. The valley is known for its production of potatoes, lettuce, spinach, carrots, and quinoa, all of which thrive at 7,600 feet above sea level. It's also home to free-range bison and Rocky Mountain White Tilapia.
Fortunately, much of the food that's grown in the San Luis Valley stays there. Head to the Alamosa Farmers' Market (held downtown at State Avenue and 6th Street) every Saturday from July to October for fresh regional produce and baked goods. You'll also find cooking demos, kids activities, live music, and other cultural events to make it a great way to spend your Saturday morning.
There's also the San Luis Valley Food Co-Op, where you can find local meat, eggs, dairy, grains, and seasonal produce year-round. It's member-owned, but anyone is welcome to shop at the co-op.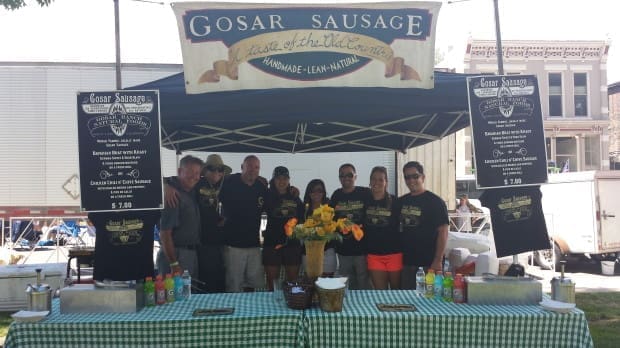 For your sausage needs, check out Gosar Ranch Natural Foods, which has been making sausages with the same preservative-, nitrate-, and additive-free recipe for six generations. There's also a flour mill at its Monte Vista headquarters.
Plenty of San Luis Valley restaurants serve local fare, too. Head to Locavores for fresh, local ingredients paired with a focus on Indonesian cuisine and a commitment to environmental sustainability. It's motto is "modern cuisine, local produce," and classically trained chefs Eelke Plasmeijer and Ray fuse Indonesian flavors and dishes with local produce, often grown in their own garden. The restaurant features solar panels on the roof to supply much of its electricity, and all the edible kitchen waste is fed to pigs on their farm or composted for the garden. The menu is filled with unique dishes that are bound to impress.
Another must-visit spot is the San Luis Valley Brewing Company, which offers both locally-made beer and food in an inviting setting. Scott and Angie Graber brew the beer on the premises, which is an 1897-built building that was updated to a modern restaurant and brewery in 2006. The centerpiece of the restaurant is a 5,000-pound vault door from 1912 that "is a reminder of what the brewery is about today: quality, craftsmanship, and using raw materials to make something wonderful."
The small-batch beer list changes, but some favorites include the Valle Special, a Mexican-style lager, the Hefe Suavé, an American-style wheat beer, and the Alamosa Amber, a classic Colorado red. The menu is filled with comfort food done well and includes bison chili, burgers, sandwiches, pasta, and steaks. Seafood lovers should try the Colorado stream trout served over quinoa.
Next door to the brewing company, The Roast, also run by the Grabers, features ethically sourced coffee as well as libations. It's the perfect spot to grab a pick-me-up to start your day.
Originally written by RootsRated for Alamosa CVB.